Rules of vertex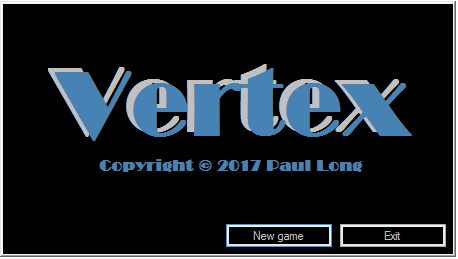 This is an original strategy game, which should run ok in any version of windows from Windows 7 and later. The aim of the game is to beat your opponent (your computer) in a race to claim the top vertex, through a progression of legal moves.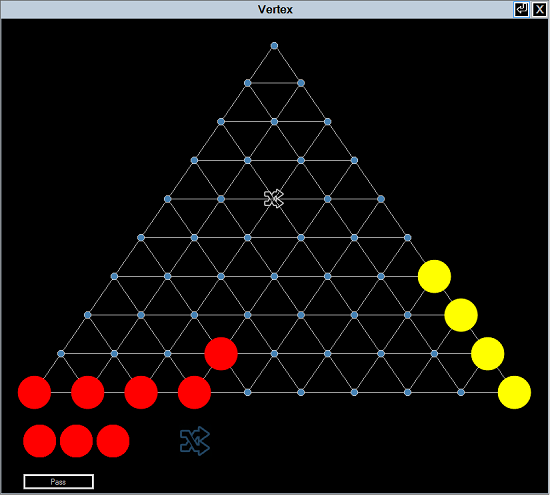 Each player is randomly allocated 1-4 chips each time it's their turn. Every one of your 1-4 chips will be red and your opponents will be yellow. Along the way to the top vertex, there are two randomly positioned power vertexes which will give you (for one power) a 1 in 8 chance that each chip allocated to you will be a 'wild' chip. For two powers, you'll have a 1 in 5 chance of your chips being a 'wild' chip.




An icon drawn on the vertex denotes a power vertex...
Chips and moves


Red

Can be played either as a free turn on the bottom left vertex at the start of a new game, or in any other case, only beside or above another Red or a RedWild chip, progressing chip by chip towards the top vertex.



RedWild

Can be played either as a Red chip, but also may be played beside or above any other chip, for blocking your opponents progress.



Yellow

This is your opponents chip and follows the same rules as a Red chip with the bottom right vertex being the free move.



YellowWild

This is your opponents 'wild' chip and follows the same rules as a RedWild chip.
"Watch What-If" is a special column on aBlogtoRead that asks the playful question "what if an iconic watch you know and love was offered in a different style?" The idea embraces a good timepiece's core design and
replica watches
has fun by offering new colors and material concepts to stimulate your senses. These ideas may be provocative, artistic, or just plain silly. This is about fun, Photoshop, and the
rolex replica sale
celebration of wrist watch design and experimentation. The original design we work off of will always be at the bottom of the article. The designs are brought to
swiss replica watches
life by Beau Hudspeth who does the artwork and concepting after he and I choose the models and styles to focus on. These "special design experiments" are extremely time consuming and
replica watches uk
labor intensive but we hope you enjoy the results. Ideas and comments are more than welcome. Enough response may even lead to a round two of design of the same
replica watches
- so please comment below. You are also encouraged to suggest the watches that should make it into the
rolex replica sale
Watch What-If section here on aBlogtoRead.